Earlier this year, Senior Nuclear Security Officer Wayne Scott flew 45 combat missions to Iraq as the flight engineer aboard a C-130 military transport aircraft. His four-month deployment in Kuwait was part of Operation Inherent Resolve — the U.S. military's joint task force effort against IS or ISIS — the Islamic State militant group controlling large parts of Iraq and Syria. The assignment was the latest in a long list of service experiences for the career military man who also has served in the Army and Air Force.
The native of Waynesboro joined the Army right after high school in 1980. Three years later, he enlisted in the Air Force where he served 10 years. In 1991 he served in Iraq during the Desert Storm campaign of the Gulf War. He retired from the Air Force in 1993 and joined the Burke County Sheriff's Office where he spent 20 years, retiring as a captain. While working in law enforcement, he joined the Air National Guard. He was hired by Vogtle Security in 2002 and remained a member of the Guard. He's now in his 22nd year of service. His rank is technical sergeant. His unit, the 165th Airlift Wing, is based in Savannah.
Officer Scott spent 14 months away from Vogtle in 2014-15 to complete flight engineer training. Operation Inherent Resolve was his second deployment.
As flight engineer on the transport plane, his job was to maintain all aircraft systems, troubleshoot any malfunctions during flight and provide the pilots with takeoff and landing data. Over the four-month deployment, his crew was in the air approximately every other day — mostly moving supplies. On one of his final flights before returning home, Officer Scott brought along an American flag that he purchased in Kuwait.
"I bought it for the purpose of presenting it to the company when I got back to show my appreciation for their support of the military," Officer Scott said. "Tom Fanning inspired me to do this. I pay attention to the things he does for the military and the presentations he does around Veterans Day — that inspired me to give something back."
Officer Scott says he is grateful knowing his job is always secure while he's away on a deployment.
"That's one less thing you have to worry about in a combat situation. You're always dealing with the stress of leaving family and hoping everything is going fine back home," he said. "The company takes care of us and makes sure we have support. The supervisors assist you. At some jobs, they will hassle you for deployment."
Southern Company is consistently ranked among the nation's top military-friendly employers by G.J. Jobs, CivilianJobs.com and others. Veterans are a valued part of the workforce and account for approximately 10 percent of our more than 30,000 employees. Additionally, Southern Nuclear is a recipient of the Above and Beyond Award presented by the U.S. Defense Department's Employer Support of the Guard and Reserve program that promotes cooperation between civilian employers and Guard and Reserve servicemembers.
Officer Scott plans to serve in the Guard for four more years. He hopes to present the framed flag to Mr. Fanning personally the next time the Southern Company CEO is on site at Vogtle 1&2.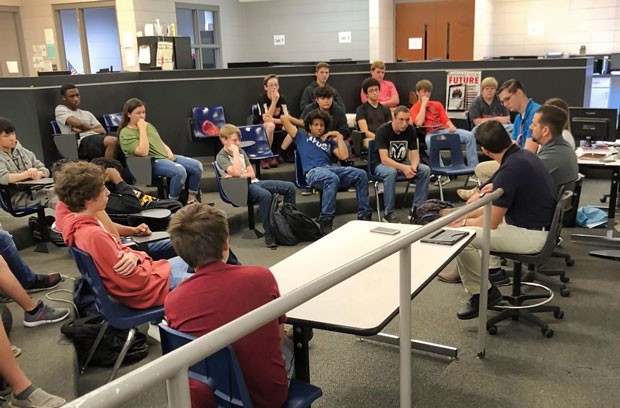 A group of Appling County High School students listen to Plant Hatch engineers share their career experiences.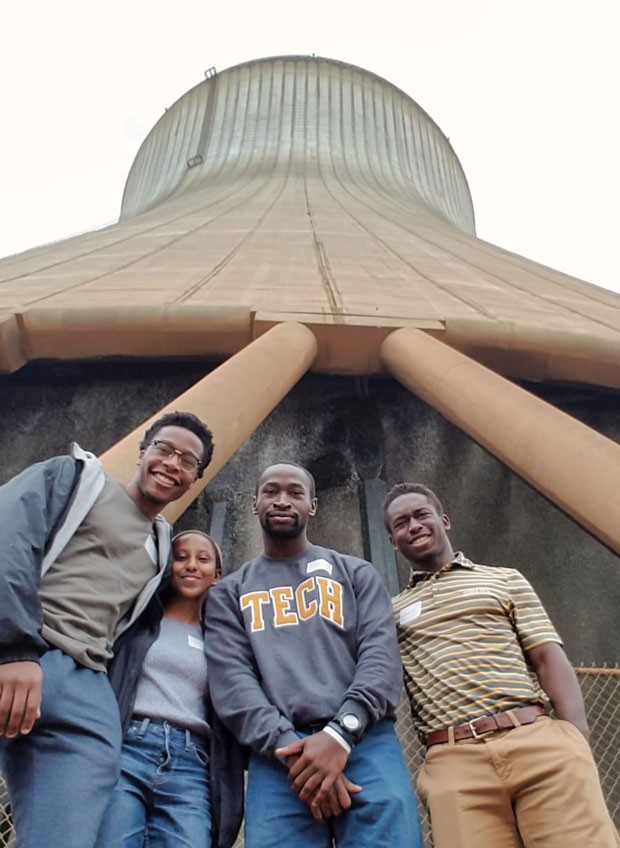 A group of Georgia Tech students visited Plant Vogtle and learned how nuclear energy works and about future career opportunities.