The BWR Fuel Engineering group was honored with the NEI Top Innovative Practice (TIP) GE Vendor Award for two accident tolerant fuel (ATF) products: ARMOR Fuel Rod Protection (abrasion and oxidation resistance) and IronClad ATF fuel cladding technology in a reactor.
Johnathan Chavers, BWR Fuel Engineering manager, accepted the award on behalf of the team at the Nuclear Energy Assembly this week. Other SNC members of the team are Randy Dunavant, lead engineer; Aaron Phillippe, senior engineer; and Nick Satterlee, engineer.
According to Chavers, "ARMOR and IronClad are anticipated to provide enhanced fuel reliability, increased safety, operational flexibility and reduced cost by leveraging accident tolerant properties. Beyond transference of the cladding technologies, the rapid, high-quality deployment of ATF lead test assemblies demonstrates that accelerated innovation in fuel products is achievable."
For information about efforts by SNC and Global Nuclear Fuel to significantly accelerate the deployment of ATF, please watch this video.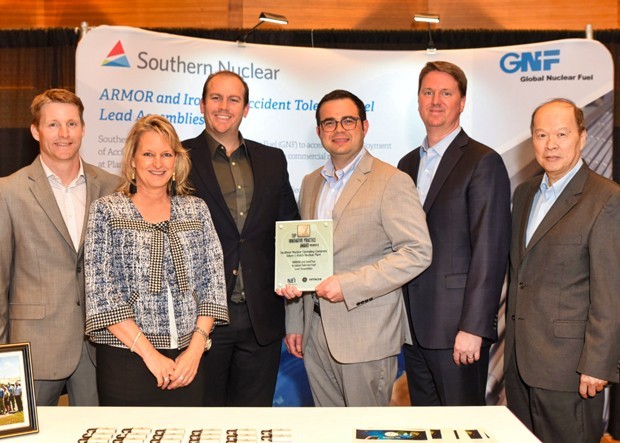 (Left to right) Randy Dunavant, SNC; Patty McCumbee, Global Nuclear Fuel; Nick Satterlee, Johnathan Chavers and John Williams, all with SNC; and Yang-Pi Lin, Global Nuclear Fuel