A group of 12 leaders from industry, academia and the local community of Idaho Falls, Idaho, recently visited Plant Vogtle to learn more about what goes into building new nuclear. The group consisted of the director of Idaho Falls Power and representatives from the Idaho National Laboratory, the College of Eastern Idaho, Idaho State University, Idaho Commerce, the Idaho Workforce Development Council and Economic Development, and Butte County Economic Development.
Southern Nuclear partnered with the Burke County Development Authority to host the visit and share lessons learned from Vogtle – not only in the area of construction but in community involvement as well. The day included a tour of the newly operational Vogtle 1&2 Training Center C simulator, a walking tour of the Vogtle 3&4 construction site and a panel discussion with representatives from Southern Nuclear Supply Chain, Communications, Training and Workforce Development.
Idaho National Laboratory (INL) in eastern Idaho is the site NuScale selected to build 12small modular reactors that will be operational by 2026. In addition, Eastern Idaho may also be selected as the home for a new test reactor, the versatile test reactor, and possibly a microreactor. Location decisions for these two reactors are pending further review.
"We have many best practices to take back to Idaho and to enhance programs in education, training, security, transportation, housing and the INL supply chain for new nuclear projects," said Amy Lientz, director of Supply Chain for Energy at Idaho National Laboratory.
"Both the Plant Vogtle and Idaho Falls communities recognize the importance and significance of the opportunity in front of us to advance nuclear projects in our country. Making these key contacts was incredibly valuable. Our Idaho delegation hopes to return the favor and host business and community leaders from Georgia to exchange still more ideas to help with preparations for a growing nuclear industry," said Mayor Rebecca Casper of Idaho Falls. "What we do here matters to the entire industry, and we intend to get it right."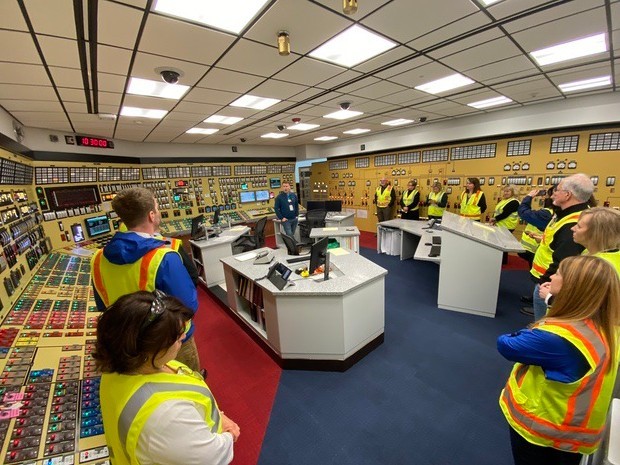 A group of 12 leaders from industry, academia and the local community of Idaho Falls, Idaho, toured the Vogtle 1&2 Training Center C simulator as a part of an information sharing trip to the Vogtle site.